HR Excellence: ADAMH HR chief has been passionate about the field for 34 years
Laura Newpoff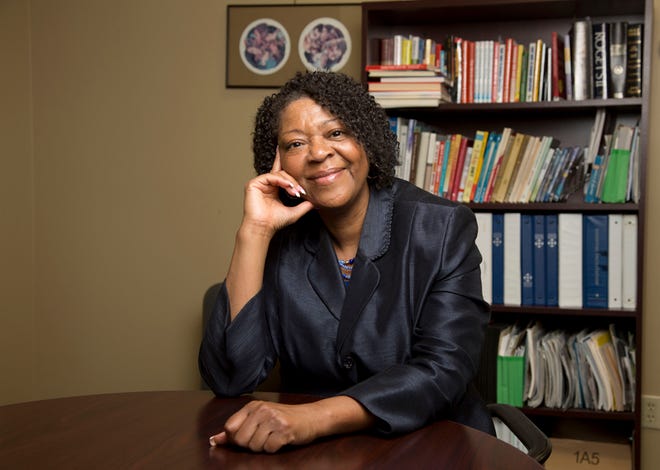 Matilda Woods has four pillars that she uses to guide her life both personally and professionally—stay humble, something for nothing is an illusion, life is like a garden and what you plant grows, and when the horse is dead, it's time to dismount. It's a combination the senior human resources director of Alcohol Drug & Mental Health Board of Franklin County says has served her well over a 34-year career.
Woods began her journey in the HR world in 1985 as a salary analyst, employment representative and education specialist for IBM in Owego, New York. Four years later she took an account administrator role with the company so she could return to Columbus to be close to family.
"That's where I learned how to recruit," Woods says of her employment representative position. "I did college recruiting, professional recruiting and what they call regular recruiting. I recruited a lot of people, and to this day I feel I can recruit with my eyes closed."
In fact, in one year, she recruited more than 200 engineering, business, computer science and technical students. The experience served her well in her next role as a personal recruiter for the State Teachers Retirement System in Columbus where she worked for five years before joining the United Way of Central Ohio as assistant vice president and human resources director.
It was in her next two roles, however, where Woods would find her HR sweet spot. She was an employee relations consultant at OhioHealth Corp. before taking her current position as senior human resources director at the ADAMH board.
"I really do like all areas of human resources, but employee relations, where I solve problems for the employees and managers as well as coaching, is actually where I found my niche," says Woods, who is being honored with a Lifetime Achievement award as part ofColumbus CEO's HR Excellence awards. "I just really love working with people and helping them in any way I can."
Over her 10-year career at ADAMH, Woods has helped transform the agency to become more engaging and employee-centered, Kenneth Wilson, county administrator, wrote in nomination materials. A signature effort has been the creation of a Leadership Academy to help develop emerging leaders for future opportunities and prepare them to be promoted.
"I realized after I had been here four years or so that a number of our management started to stay and we were getting kind of long in the tooth," Woods says. "I started thinking, 'How can we grow and develop folks under us and what are the skills they're going to need to step up and take our positions?' "
After doing some research, she put the program together. It includes monthly coaching sessions, completion of a professional development plan, DiSC behavior assessments and the chance for participants to work alongside senior staff leaders for a day.
She's also worked to develop sessions for leadership that include coaching staff, team building, conflict resolution, performance management, sexual harassment, ethics, mediation and leadership development.
In addition to her HR career, Woods has contributed to the profession by serving as a member of the Human Resources Association of Central Ohio's membership committee and as an adjunct HR professor at Ohio Dominican University and the University of Phoenix. She also worked with the National Black MBA Association, where she served as one of the founding members, to help bring the organization to Central Ohio from Chicago in the 1990s.
Wilson says he got a chance see how Woods' years of dedication to her field have added up by working closely with her on a labor management health care committee made up of county agencies and boards and collective bargaining units. "She stepped up on a number of RFP processes and I got an opportunity in those more intimate settings to appreciate her knowledge of the field of human resources and benefits management," he says. "Her grasp of the issues really stood out, and that reflects her more than 30 years of experience."
He noticed one of those four guiding pillars, too.
"You know when she speaks she's put a lot of thought into it," Wilson says. "She is a very collaborative individual who has a way of approaching things and providing feedback in a very humble manner."
Lifetime Achievement recognizes a longtime or retired HR professional who has demonstrated exceptional leadership, knowledge, decision-making skills and commitment.
Laura Newpoff is a freelance writer.
Subscribe to Columbus CEO's weekly newsletter and stay up to date with the region's movers and shakers, top employers, philanthropic causes, real estate developments and thriving creative and startup scenes. Plus – be the first to hear about our awards programs and get exclusive invitations to our events.